"I HAVE HAD THE OPPORTUNITY TO PARTICIPATE IN THE GARMANY GOLF PEBBLE BEACH PRO-AM FOR THE LAST FOUR YEARS. IN ALL OF MY YEARS OF GOLF & TRAVEL, NOTHING COMPARES TO THIS VENUE, HOSPITALITY AND EXPERIENCE! MY THORNHILL MEMBERS AND I HAVE SUCH A TERRIFIC TIME, AND IT'S ALL THANKS TO BUD AND HIS TEAM AT GARMANY GOLF. WE CAN'T WAIT TO RETURN."
TODD MCGRATH,

THORNHILL GOLF CLUB
$7,299 Per Guest, Double Occupancy
$1,600 Upgrade to Single Occupancy
4 Nights, 3 Rounds of Bucket List Golf and Unlimited Lifetime Memories!
We are pleased to announce the 6th annual Garmany Golf Pebble Beach Pro-Am will be taking place from February 6 – 10, 2022.
In addition to playing Pebble Beach, you'll play Spyglass Hill, and The Links at Spanish Bay. Enjoy all of this while staying at the luxurious accommodation of The Inn at Spanish Bay, where you'll enjoy daily breakfast and nightly cocktail and scoring receptions.
This is set to become one our favorite weeks of the year and we certainly hope that you will be able to join us in making spectacular memories to last a lifetime!
PROJECTED DAILY ITINERARY & FEATURES
February 6th – February 10th, 2022
4 Nights of 5-star Accommodation
3 Rounds of Bucket List Golf
Daily Happy Hour & Scoring Receptions
Team and Pro Competitions
24/7 Garmany Golf Concierge Service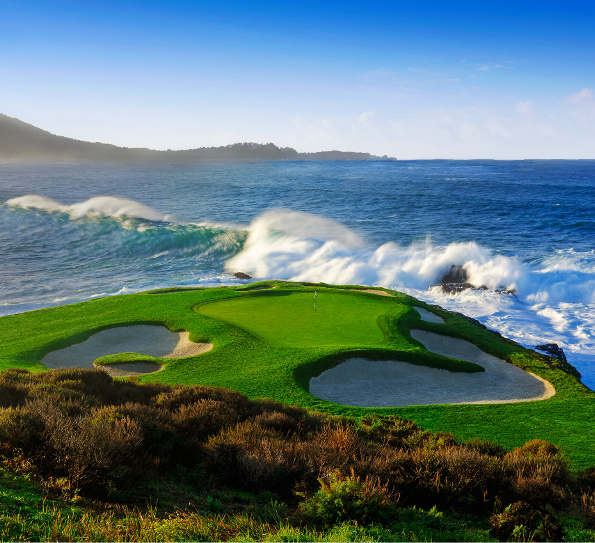 February 6th
Arrival Day
Check-In: The Inn at Spanish Bay
Welcome Cocktail Reception
February 7th
Golf Round #1: The Links at Spanish Bay
Post Round Cocktail Reception
February 8th
Golf Round #2: Spyglass Hill
Post Round Cocktail Reception
February 9th
Golf Round #3: Pebble Beach
Cocktail and Scoring Reception
February 10th
Check-Out: The Inn at Spanish Bay
Departure Day, Safe Travels!
Important Experience Information
What airports should I plan to fly in and out of?
You'll want to schedule your flight to arrive and depart from San Jose International Airport (SJC), which is approximately 1 hour and 15 minutes from Pebble Beach Resorts or San Francisco International Airport (SFO), which is approximately 2 hours from Pebble Beach Resorts.
Please contact the GG Concierge Team if we can be of assistance with booking flights. There is a $50 domestic airfare-booking fee that will be applied if you are interested in taking advantage of this service from our Concierge Team. Our Concierge Team is able to book using your airline reward miles, too, if you like. The total domestic airfare-booking fee for using miles is $100.
The international airfare-booking fees are $100 and $150 when using miles.
What will the weather be like during our stay?
A typical day in Northern California in February usually consists of sunshine with very interment rain showers on the rare occasion. The average temperature is in the mid 60s with lows around 50 degrees in the evenings.
What should I do about ground transportation?
Our Concierge Team is happy to assist with individual or team transfers to and from Pebble Beach Resorts should you desire assistance with making transportation arrangements. Whether it be a car rental or private transfer, our Concierge Team is ready to assist you with finalizing any and all of your transportation needs. On-site ground transportation at Pebble Beach Resorts relating to golf rounds and event functions that are part of the Pro-Am schedule of events are included.
What if I want to play additional and optional golf?
There is an abundance of wonderful golf courses in the Pebble Beach area. If any Guest wants to play additional golf, before or after the Pro-Am, a GG Concierge can arrange optional golf for you. Optional golf can be booked in advance of your departure as well. Please consult the GG Concierge Team for golf options.
Can I arrive early or stay late?
Yes! The GG Concierge Team can book early arrivals or extended stays at your request. Ask us about fantastic extension options in Napa Valley, Sonoma and San Francisco!
What non-golfing activities are there to do?
While it's most famous for its golf, the Pebble Beach, Monterey and Carmel area are fantastic destinations with endless non-golfing activities! Spend the afternoon visiting the world-renowned Monterey Bay Aquarium, shop and dine on Cannery Row, visit Old Fisherman's Warf, sightsee along 17-mile drive or even spend the afternoon in Big Sur or go wine tasting in Carmel Valley! And don't forget about the acclaimed Pebble Beach Resorts Spa, which is a great way to spend a relaxing afternoon!
Are carts or caddies included?
We've arranged carts for all players and one (1) forecaddie for each team as part of the Pro-Am for each of the competition rounds. Players are responsible for the forecaddie gratuity based on the level of service you received. Pebble Beach Resorts recommends a $30 per player gratuity for a forecaddie.
Can I upgrade to a walking caddie?
Yes! Guests are more than welcomed to upgrade to a walking caddie for any of their rounds. Please contact our Concierge Team to ensure that we can facilitate your request for a walking caddie. The upgrade to a walking caddie is $45 per player and the recommended gratuity is $30-50 based on the level of service you receive.
DETAILS
This Experience is priced in U.S. Dollars.
For the cancellation policy for this Experience, please see Terms and Conditions below.
TRAVEL GUARD, TRAVEL INSURANCE
Garmany Golf strongly recommends for your protection that you take out insurance to cover you in case of forced cancellation, loss or damage of luggage, personal injury, accident, illness, or other unforeseen circumstances, none of which Garmany Golf can be liable for.
Garmany Golf is a licensed representative of Travel Guard, the recognized leader of travel insurance options. A Garmany Golf Concierge will be happy to provide a quotation and proposal for a Travel Guard policy as well as facilitate the registration for any Guest.
TERMS & CONDITIONS 
COVID-19 CANCELLATION, REFUND AND CREDIT POLICY
***Please be advised that in the unlikely event that the COVID-19 situation should result in Pebble Beach Resorts having to close operations prior to our scheduled Pro-Am, all monies paid will be refunded to all Guests. Our communications with the Executive team at Pebble Beach Resorts have provided us with full confidence that the event will go forward as planned during our scheduled dates. However, in looking out for our Guest's best interests, we have received the assurance that should the event not be allowed to take place due to any Covid facilitated closures, all refunds will be made. In addition, in the unlikely event you should be impacted from traveling to the event as a result of 1) any travel restrictions 2) border closures 3) forced quarantines at either Pebble Beach or your home city or 4) you or a member of your direct household have contracted or experiencing Covid-19, any payments made to Garmany Golf and/or Pebble Beach will be refunded or a credit will be issued, whichever you choose. ***
NON COVID-19 CANCELLATION POLICY
Once your team's registration has been booked and confirmed, and the requisite deposits have been placed, there are no refunds of any deposits or final payments made by Guests or the representative club, with the noted Covid-19 exception/s articulated above.
Garmany Golf strongly recommends travel insurance to provide against any unforeseen circumstances that may cause a Guest or club to cancel participation in any Experience.
ADDITIONAL AND OPTIONAL BOOKINGS, AND PAYMENTS:
At the request of a Guest, a GG Concierge will be happy to book any non golfing tour, activity or additional round of golf before or during the Experience.
Please be aware that an administrative or booking fee may be added to any such booking. In the event of such a fee, the Guest will be notified in advance of the fee and have the opportunity to decline the booking confirmation.
All Guests agree to provide a valid credit card in advance of the Experience that may be used for payment for any additional tour, activity or additional (non included) round of golf booked during the Experience for the Guest.
RESPONSIBILITY 
Garmany Golf, as the tour operator, and its selling agents, act only as agents in securing and booking the hotel accommodations and other land tour services provided by others as independent contractors. GG, its selling agents or the specified air carriers assume and accept no liability for injury, loss, damage, accident, delay, changes or inconvenience caused by: any force majeure – health risks – reason of war or threat of war – riots – civil strife – terrorist activity – industrial disputes – acts, omission, neglect, delay or default of any person engaged in providing any tour services including transportation and accommodation – technical problems to transport – closure or congestion of airports or ports – building work – extended hotel closure – cancellations or changes of schedules by airlines – interruption or failure of public utilities outside the control of the hotel and similar events beyond our control, including storms, tempests and hurricanes.
If any add on tour service to your Experience, or its reasonable equivalent, is not provided due to events beyond the reasonable control of GG, the company will make an appropriate refund of that portion of the tour price covering the undelivered tour service, but it is understood that GG shall have no other or further responsibility or liability either for the accuracy of any representation or the non provision of any tour services. GG is not liable for loss, damage or theft of luggage or personal belongings, for personal injury, accident or illness on any vehicle or at any place throughout the tour. GG is not responsible or liable for any property damage caused by a Guest. The Guest assumes all responsibility for incidental charges, damages and any necessary replacements needed that may have been caused by the Guest's visit. GG reserves the right to cancel an Experience if circumstances so require. In the event of such, GG will make a full refund to travelers of all payments received in respect of the Experience. Such a refund of payments will be the full extent of GG's obligation and liability to travelers.
The Garmany Difference
OUR PASSION
Can passion be a differentiator? You bet it can! Especially when that passion, to do it better, to go beyond, to exceed expectations, is exercised in the interest of making sure our Guests have the Experience of a lifetime.
OUR RELATIONSHIPS
We work incredibly hard at building great relationships with every Partner who will play a role in your Experience, whether it be a golf course, a hotel, a ground transportation provider or ANY OTHER critical component in your journey. Those trusted relationships will be a difference maker when you become a Garmany Guest!
OUR PROCESS
Everyone knows that travel and big events are ripe with opportunities for frustrations, of all types and varieties. NO BRAINER. SEAMLESS. EASY. When a Garmany Golf Guest describes the process of creating their Experience, arriving, departing, being at a foreign place and all of the logistics involved, with those words? Well, that's us doing what we do.